The newest AlphaTauri flagship store in the heart of London comes with a slick monochrome interior made of brushed aluminum. The interaction of technical and natural elements, combined with innovative digital features, provides customers with a one-of-a-kind shopping experience.

As part of my role I was heavily involved in creation and production of the following installations: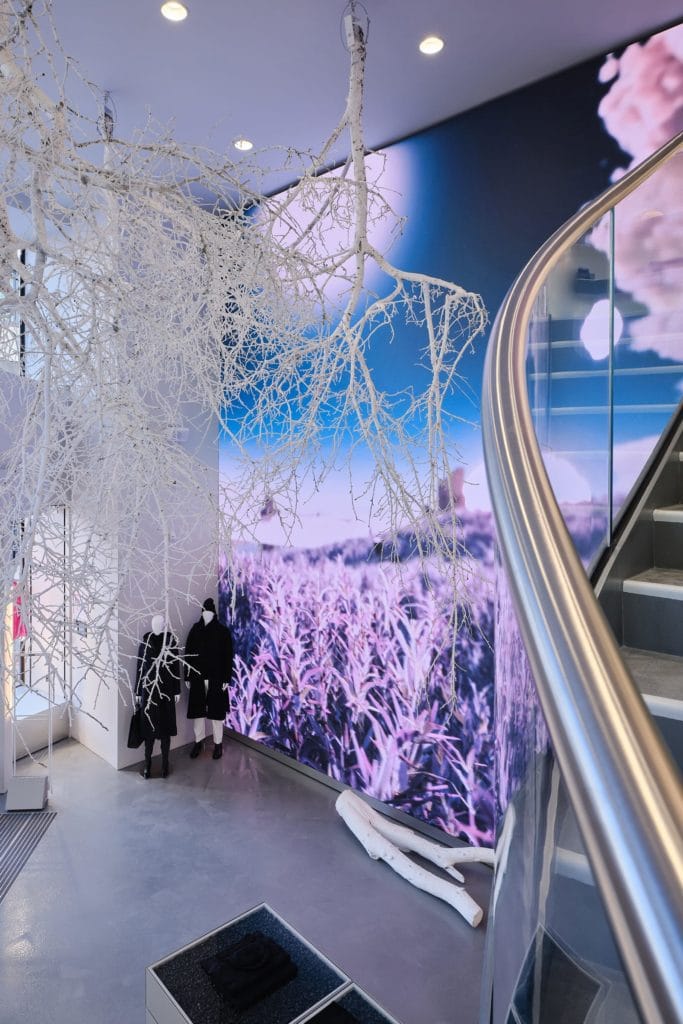 Hybrid Playgrounds
A two-story, 6-meter-high (19.6 feet) LED wall with immersive sound and content that changes depending on the time of day allows customers to fully immerse themselves in the brand experience as soon as they step into the store.

Three technology-connected 3D worlds made within the Unreal Engine extend the brand into the digital world. The content adjusts based on the season to strengthen an omnichannel approach.
Fashion Meets Function
The in-store experience is rounded off by a Formula One® race car that seems to emerge from the wall, representing the connection between the Scuderia AlphaTauri racing team and the fashion brand.

The challenge of cutting the chassis of an original Formula One® race car horizontally in half was not an easy task, practically and mentally… at least for the Formula One® team it wasn't.

The unique parka explosions, on the other hand, is made up of individual technical parts that are attached to the wall and display the iconic AlphaTauri KOOV parka.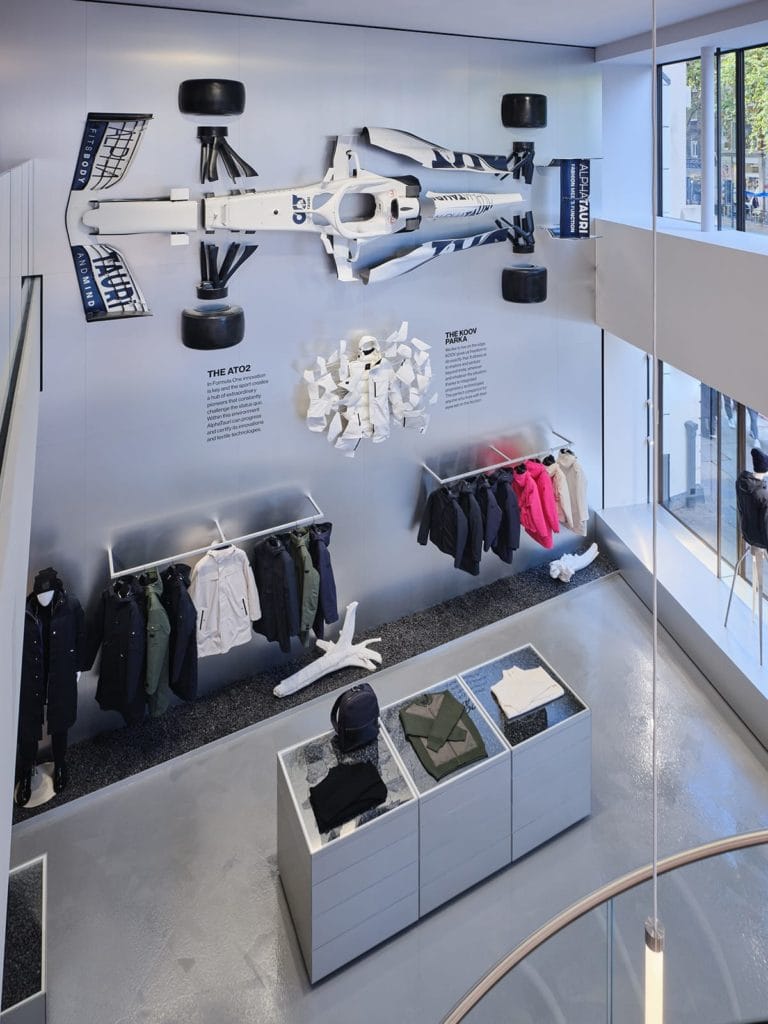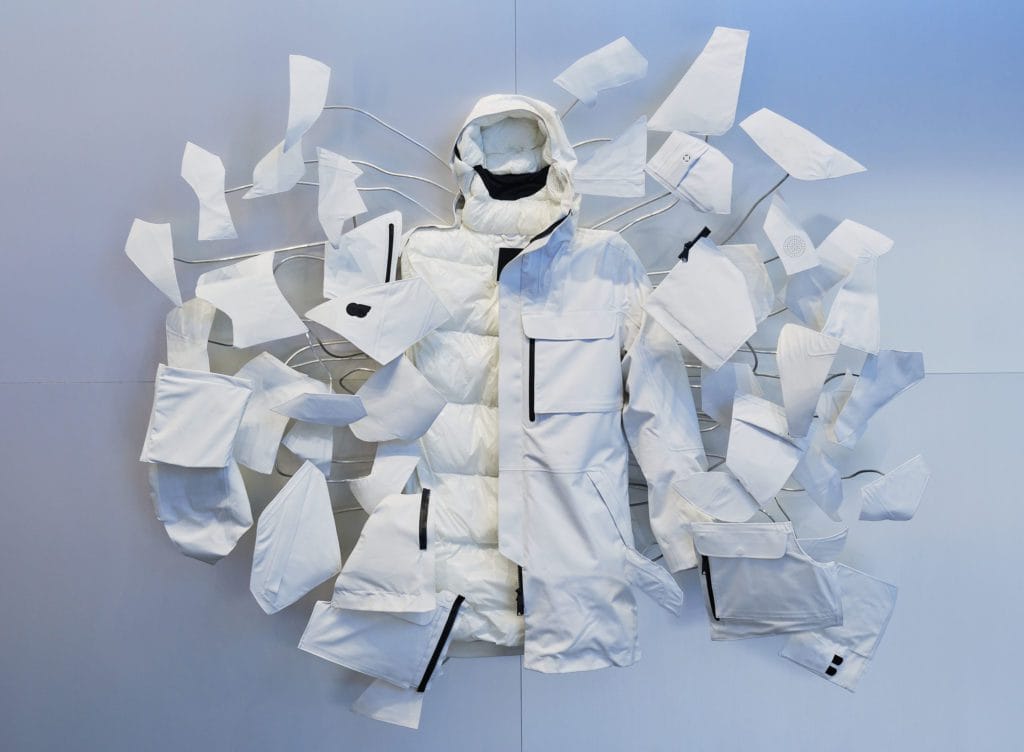 The Explosion Parka
To highlight the uniqueness of the brands iconic Parka KOOV, this installation came to life by cutting it into pieces, showcasing the products features and benefits like the taped seams, beanie fit, magnetic buttons, it's Taurobran® membrane and PrimaLoft® insulation.

Made out of more than 50 unique pieces, each piece is magnetically attached to an aluminum rod which provides the installation with modularity and flexibility to adjust it according to different needs. Staff can remove these pieces and showcase the product's waterproofness and other benefits.
A modular, story-telling brand wall
Another unique highlight of the store is the custom-made brand wall. Illuminated through the brand's representative star constellation it comes with 3 remotely-controlled LED screens which allow it to be updated on the go from anywhere in the world.

To support the store staff, it offers insights into the history of the brand, the current collection and knowledge about the core garment technologies including campaign and explanatory content.

Each part can be easily transported and used on it's own, making it highly flexible and purpose-orientated for every possible scenario.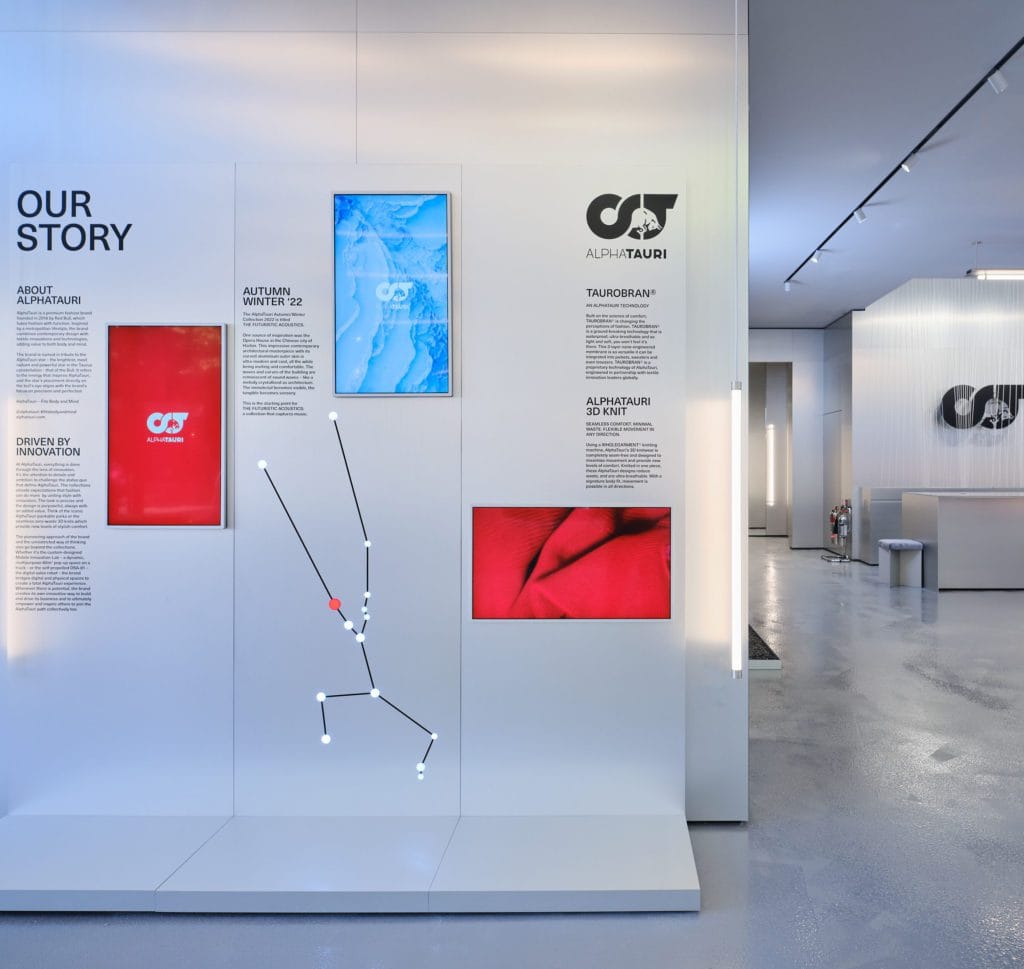 Below you can see a walk-through video and experience the store in more detail.